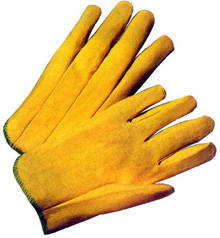 Vinyl Impregnated
Handling Work Safety Gloves
with
Non-Stretch Fabric
(DOZEN PAIR)
Non-Stretch Vinyl Impregnated Men's Glove
Comfort, flexibility and dexterity. Ideal for light-duty assembly and handling small parts.
Features and Notes:
The Vinyl Impregnated with Stretch Fabric is ideal for shipping, receiving, and packaging.

For easy on/off, it uses a clute pattern with a slip-on cuff wrist, and a seamed back.

The vinyl impregnated glove has a knit cotton lining that provides excellent dexterity, and gripping power.

Stretch vinyl impregnated with PVC

Russet

Slip-on

Coated palm and fingers

Manufactured with FDA accepted materials for use in food processing applications.

Suggested Applications:
General Labor

Manufacturing

Assembly

Maintenance
SKU ~ ML-203w
Westchester
Vinyl Impregnated
Handling Work Safety Gloves
with
Non-Stretch Fabric
(DOZEN PAIR)