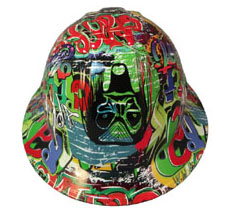 Graffiti
FULL BRIM
Hydrographic Safety Hardhat
Looking for a safety helmet with some personality? Check out our full line of Hydrographic safety hard hats. These hats are custom dipped with a design that covers the entire surface of the hard hat shell. The safety helmets are hand dipped with the pattern of your choice and usually take just a day to produce and a day to gloss and let dry. We carry a wide selection of patterns and adding new designs often.
We are currently using a Pyramex SL Full Brim hat with a 4 point suspension for the hard hat shell, a 6 point suspensios is available for only a couple of bucks more.
Show a little personality while staying safe.
Features and Notes:
The Hydrographic Hardhats are also known as Water Transfer Printed or 3D Printed hardhats.

The exterior surface of the hardhat is covered by the design and will not fade or easily scratch.

Each hat is individually dipped and each hardhat is completely unique.

We start with a brand new Pyramex™ Full Brim hardhat shell.

And then we add a top coat of PPG automotive paint, dip the hat with the custom ink design, and then add a glossy clear coat to keep the design safe and secure.

The process is actually a lot more work than it sounds, but the designs are truly amazing once completed.

Currently we are producing about 68 different patterns of water dipped hard hats, in both the cap style and the full brim design.

Comes standard with an adjustable ratchet suspensions that fit head sizes 6.5 to a size 8.

Notes:

The Hydrographic Safety Helmets are made to order which takes around 2 business days; however, there may be an additional 3-4 day lead time on larger orders

Since the hard hats have been modified from the factory, we can not say they are ANSI class 1 hard hats; however, we are taking a NEW ANSI approved hard hat and adding several layers of paint, ink, and glossy coating which can actually strengthen the hard hat shell. .

SKU ~ ML-hdhh-753-FB
Graffiti
FULL BRIM
Hydrographic Safety Hardhat