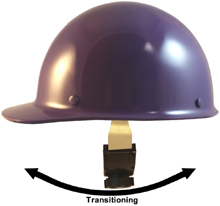 MSA® SKULLGARD™
Safety Hardhats
with
Swing™ Ratchet Liners
Purple Color
The MSA Skull Guard Hard Hats are perfect for use within a work area that has high temperatures. While these hats are made for use in high heat areas, the fiberglass hard hats are also popular in construction, agriculture, mining, and many other industrial settings.

We offer the MSA Skull Guard cap style hard hats with the new MSA Swing suspension in not only this Purple Color but in numerous other colors as well.

The MSA Swing Suspension makes it quick and easy to go from normal bill toward the front of the hat to bill to the back of the hat. Great for Ironworkers, welders and many other trades.
Features and Notes:
Rigid shell with high dielectric strength is balanced for all-day wearing comfort.

The hats can face radiant heat loads up to 350°F.

The design comes with a smooth crown style to make use of MSA welding equipment easier.

Skull Guard Caps and Hats meet or exceed the applicable requirements for a Type I helmet (top impact) as outlined in

ANSI Z89.1 2014,Class G electrical-low voltage)

Fits Head sizes 6.5 to size 8

The Purple SkullGard hardhats are custom painted which can take 1-3 business days

Made in USA.

SKU ~ ML-816666-PUR
MSA® SKULLGARD™
Safety Hardhats
with
Swing™ Ratchet Liners
Purple

Embellishments for your hat