Pyramex© G404T
Chemical Goggle
Anti Fog Lens
Foam Padding
These Pyramex© chemical goggles feature anti-fog lenses foam padding. They're very affordable and offer several useful features including a black breakaway strap. Since they're made with a clear lens color distortion should not be a problem.

These general purpose goggles work very well for both indoor and outdoor applications and are designed to provide the wearer with decent impact protection. They are a great choice for working in sunny environments since they prevent eye strain caused by excessive glare. With their scratch-resistant lenses these goggles can take quite a beating and will still function like they're new.

The polycarbonate lens is durable and can stand up to the toughest environments. These are top-shelf chemical splash goggles so they have a larger body and lens.

With their one-way ventilation they allow fresh air in and block liquids out. To reduce glare the body is tinted. These goggles meet ANSI Z87.1 standards for impact protection.
Features:
Clear polycarbonate lens

Breakaway strap

Can be used for a variety of indoor applications

Breakaway headband helps keep the wearer safer

Body has been tinted for enhanced glare reduction

One-way vent brings air in and keeps chemicals out

General purposes for indoor applications that require impact protection.

Offers protection from excessive glare.

Scratch-resistant lenses

Provides 99% protection from harmful UV-A and UV-B rays.

100% polycarbonate lenses

Top shelf chemical splash goggles features generously sized heavy duty body and lens.

Body tinted to reduce glare.

Exceeds the ANSI Z87.1-2003 High Velocity Impact Standards.
SKU ~ ML-G404T
Pyramex
Chemical Safety Eyewear
Anti Fog Lens
Foam Padding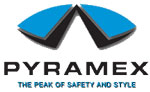 null