Pyramex Ridgeline
Vented Cap Style Safety Helmet
With 4 Point RATCHET Liner
Black Graphite Pattern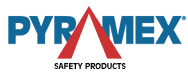 The Pyramex™ Ridgeline™ cap style safety helmet is made with a sleek, reflective surface, which makes it an excellent product for daytime work. When light reflects off the surface of the helmet, it makes it easier for other workers to see you.

This helmet offers all the high-quality features that you'd expect from Pyramex™ products, and for the best fit, it comes with a convenient feature for height adjustments. This version of the Pyramex hardhats features air vents located at the rear and on top of the hat. Because of his feature, your head will stay cool and dry. The vented Pyramex hardhats meet Class C regulations only.

The ratchet suspension allows you to make quick adjustments, and you'll never have to worry about the helmet sitting too low or high on your head. Our low-profile safety helmets are prefered by workers, and this product is just as popular as the rest. Most workers prefer the style of a low-profile helmet, and since the Pyramex™ Ridgeline™ safety helmet also comes with reliable protection, it's an excellent choice for many workers.

The addition of thermoplastic resin makes this helmet different than some of our other products, and the resin is good at increasing strength and Whiteucing overall weight. A major benefit of the low-profile design is a lower center of gravity, which can improve your balance. Since this product meets ANSI safety standards, it's a popular choice for general applications.

The ratchet suspension can be adjusted with a triangle knob, and for maximum strength, the shell is made from thermoplastic resin ABS material. To give you long-lasting comfort, the built-in pressure pad is vented, and swinging hinge points make adjustments easier.
Features:
Triangular suspension knob is easy to adjust

Features air vents to keep your head cool on the front and rear

Outer shell is made from thermoplastic ABS material

Built-in pressure pad is vented for maximum comfort

Made from strong, lightweight resin material

Low-profile design offers lower center of gravity for improved balance

Rear suspension is padded for comfort

Complies with US ANSI/ISEA Z89.1-2014, Type I Class C, E & G Standards
SKU ~ 4UR-HP44117

Pyramex
Cap Style Rideline Safety Helmet
4 Point RATCHET liner


Black Graphite Pattern