Pyramex® #HP76117 RIDGELINE™
XR7© Safety Helmet
with
6 Point Ratchet Liners
Blue Pattern
The new Pyramex Ridgeline XR7 Safety Helmet is manufactured from a special ABS/PC material which provides both high quality strength and heat resistance.
The helmet features an easily adjustable 6 point ratchet suspension in sizes ranging from a hat size of 6.5 to 8.
The swinging hinge point and the ratchet suspension are adjustable for personal preference of height settings and angles.

Features and Notes:
Ratchet suspension is ideal for workers who are always busy and on the move

Brow pad is soft and cushioned for all day comfort

Low profile design features a low center of gravity for better balance

Rear padded suspension provides an additional level of comfort.

4-position harness points allows the wearer to move the harness forward, backward, up or down - allowing for the most optimal position for ultimate comfort

Replaceable sweat band - Padded fabric and polyurethane foam for all day wear

Pressure pad - Keeps the straps in place providing an additional level of comfort

Easy to grasp knob - Adjusts the suspension from 6 1/2 to 8

Swinging hinge points - Allows you to find the most comfortable position on the back of your head

6 Point Ratchet liner make size adjustment quick and easy.

3 adjustable height options

2 settings to adjust wearing angle.

Complies with ANSI Z89.1-2014 Class C, E, G regulations
Meets CSA Z94.1-05 Canadian Regulations

Can be ordered with a protective edge which both enhances the appearance of the hat and also protects the vulnerable edges.
SKU ~ ML-HP76160
Pyramex® RIDGELINE™
XR7 Safety Helmet
with
6 Point Ratchet Liner
Blue Pattern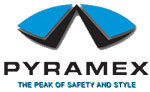 Embellishments for your hat