Typical Appearance
The Pyramex™ OTS© safety glasses are a new style of over-the-glass safety glass. They are designed to fit over your prescription eyewear and still be comfortable. The OTS fits today's smaller RX frame styles and does not have the size and bulk of most over the glass safety glasses making them a great alternative to prescription safety glasses.

The Pyramex OTS© safety glasses are among our top products. If you are in the market for over-the-glass protection the Pyramex OTS could be exactly what you're looking for. These safety glasses are designed to fit over an existing pair of glasses so you can avoid spending money on specialized protective eyewear.

While they are large enough to cover your prescription eyewear they are still very comfortable to wear. They can fit many of the smallest RX frames without the bulky size that many other products have.

The Pyramex OTS© glasses can serve as affordable alternatives to costly prescription safety eyewear. They provide protection against 99.9 percent of UV rays and exceed ANSI Z87.1-2015 high-impact requirements. The single lens features a scratch-resistant coating, so it can withstand a significant amount of abuse.

These glasses have lightweight nylon temples which can be adjusted for pitch and length. Since the Pyramex OTS© safety glasses have a single lens they're able to encapsulate your eyes and deliver the maximum level of protection.
FEATURES:
Protects your eyes from 99.9 percent of UV radiation

Large single lens provides maximum coverage and protection for eyes

Made to fit modern prescription eyewear very well

Coated lens resists scratches

Nylon temples are lightweight and can be adjusted for pitch and length

Lenses provide 99% protection against harmful UV rays

Lenses are coated for superior scratch resistance

Lightweight nylon temples that adjust for length and pitch

Single lens protection encapsulates the eye for superb protection

Designed to better fit today's prescription eyewear

Complies with ANSI Z87.1 Safety Standards.
CAN/CSA Z94.3-07
SKU ~ ML-S3560SFJ
Pyramex OTS Safety Eyewear
3.0 Green Welding Lens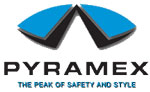 null