Pyramex™ Auto Darkening Welding Helmet
Blue Fire Pattern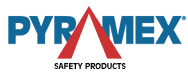 We now have a new Pyramex Auto Darkening welding helmet. The amazing thing about an automatic darkening helmet, is that it activates and adjust to the bright light that is produced by the welding process. With 3 switches, one for grinding, and one for the shade to automatically darken from a shade 9 to a shade 13. Inside the shell of the hat, the controls offer adjustments for sensitivity, shade, and delay. The Lens for welding measure 4 inches wide by 4 inches high.

The helmet's shell is made from a high impact resistant nylon material that is also lightweight and features an ergonomic design, and with suspensions that fully adjust for the best possible fit. The suspensions in the shell, adjust to the contour of the head and also can adjust the tension to flip the hood up and down.

These helmets have full head, neck and face protection needed to stay safe, and reduces welder's fatigue, being a great benefit for welders. You get the precision to stay safe as well as perform your welds correctly, with the high-speed lens that operates at 1/3000 seconds. The auto darkening lens are powered by solar cells and a replaceable lithium battery. This helmet has a staggered design with 4 independent arc sensors to deliver reliable arc detection. Also included with the lens is a magnification lens holder.

Features:
Adjustable IR9-13 Sensitivity Adjustment Precision lens operates at 1/30000 seconds

Three controls to fine tune helmet

Strong and lightweight shell

Eliminates the issue of welder's fatigue

Protects the head, neck and face

Nylon suspension is fully adjustable

Meets ANSI P Z87+

CSA Z94. 3-07

Has auto darkening from shade 9 to 13
Pyramex
Auto Darkening Welding Helmet
Blue Fire Pattern
SKU ~ 4UR-WHAM3030FM