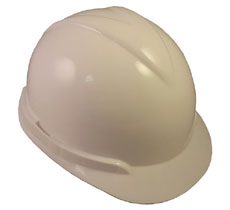 MSA™ Vanguard®
Type II Hard Hats
With
Ratchet Liners
White
The MSA Vanguard Type II hard hats were designed to provide impact protection in the event of a blow to the side of the head head; as well as, a blow from the top of the head.
The Vanguard II, is a Class E hard hat and meets all ANSI requirements as a Type II hard hat (U.S. ANSI Z89.1-2014). These hard hats are also certified for use in Canada under CSA Z94.1-05 regulations.
Each hat has an additional foam insert that is approximately ½ inch throughout the entire shell of the hard hat. These hard hats have been tested to handle the same impact resistance on the side and the top of the helmet.
Features and Notes:
Meets US and Canada regulations for a Type I or Type II hard hat

Offered in either a White or white color

Comes with an adjustable 4 point ratchet suspension

Fits head sizes 6.5 to approximately a size 8

Highest level of safety offered in a hard hat

Complies with ANSI Z89.1, 2014, Type 1 Class E & G Standards.

MSA V-Gard with Fast Trac III Suspensions Complies with Canada CSA Z94.1-2005

Fits Head sizes 6.5 to size 8

Made in USA.

Use only MSA's Fas-Trac Suspension designed for Vanguard Helmets. Use of any other suspension will reduce the energy-absorbing ability of the protective helmet, which can result in serious personal injury or death.


SKU ~ ML-GB-475385
MSA™ Vanguard®
Type II Hard Hats
With
Ratchet Liners
White

Embellishments for your hat