Pyramex© G204
Indirect Vent Goggles
The Pyramex© indirect vent goggles are some of our most affordable goggles and lightweight weighing only 0.15 pounds. If you're in the market for an affordable and high-quality pair of chemical splash goggles these products should definitely be considered. They're great for general-purpose applications and designed to protect your eyes from excessive glare.

The lens is crafted from polycarbonate material and will protect your eyes against UVA and UVB ultraviolet radiation. These goggles have vent caps that prevent liquids from getting in while allowing fresh air to enter the space between the goggles and your eyes.

They meet ANSI Z87.1 safety standards and can be used for a wide range of applications. Although these goggles have a very basic design they can give you the protection that you need to stay safe. They will prevent your eyes from getting injured by chemical splash and keep your vision crystal clear.

They're commonly purchased and used for workplace applications but are also very useful at home. These goggles are particularly useful for applications that expose workers to chemicals any can also prevent dust from entering and keep your eyes safe from other hazards.
Features:
Polycarbonate lens is UV and scratch resistant

Lens also protects against glare

Ideal for general applications

Offers protection against chemical splash

General purposes for indoor applications that require impact protection.

Provides 99% protection from harmful UV-A and UV-B rays.

Chemical Splash goggle features vent caps to restrict influx of liquids.

Exceeds the ANSI Z87.1-2003 High Velocity Impact Standards.

CE EN 166 Certified
SKU ~ ML-G204
Pyramex
Indirect Vent Safety Goggles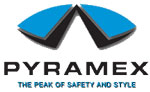 null