Pyramex®
Full Brim Safety Hardhats
with
Ratchet Liners
Hi Viz Pink Color
Impact and penetration resistance was the key when designing the Pyramex 4 Point Full Brim Safety Hardhat with Ratchet Liners. This hat offers a snug comfortable fit while being adjustable. The user can wear this all day long and always feel protected.

If you are in the market for an inexpensive full brim hard hat, this is one of the top models that we supply. What makes the Ratchet suspension great is that it can be quickly adjusted. Perfect for workers who're always on the move and don't want to stop and waste time on adjustments.
Features and Notes:
Adjusting is made effortless with the Ratchet Suspension.

Fits head sizes from 8.5 to 11

Offers a stylish low-profile design

Manufactured from High Density Polyethylene

Features a washable browpad

Can be reversed with bill toward the back of the head and still retain all the ANSI Specs,

Numerous colors in stock and ready for immediate shipment worldwide

Complies with ANSI Z89.1-2014 Class C, E, G regulations

Meets CSA Z94.1-05 Canada Regulations

REPLACEMENT Ratchet Liners Available

Click Here
SKU ~ ml-HP44170
Pyramex®
Full Brim Safety Hardhats
with
Ratchet Liners
Hi Viz Pink Color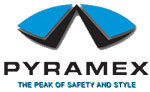 Embellishments for your hat