Pyramex® RIDGELINE™
Cap Style Safety Hardhats
with Ratchet Liners
Hi Viz Lime
Impact and penetration resistance was the key when designing the Pyramex RIDGELINE™ 4 Point Cap Style Safety Hardhat The Pyramex® Ridgeline™ cap style safety helmet is made with a sleek, reflective surface, which makes it an excellent product for daytime work. When light reflects off the surface of the helmet, it makes it easier for other workers to see you.

This helmet offers all the high-quality features that you'd expect from Pyramex® products, and for the best fit, it comes with a convenient feature for height adjustments.

The ratchet suspension allows you to make quick adjustments, and you'll never have to worry about the helmet sitting too low or high on your head. Our low-profile safety helmets are preferHi Viz Lime by workers, and this product is just as popular as the rest. Most workers prefer the style of a low-profile helmet, and since the Pyramex® Ridgeline™ safety helmet also comes with reliable protection, it's an excellent choice for many workers.
Features and Notes:
ABS material - Strong, yet ultra-light for seemingly weightless protection

Low profile design - Offers a low center of gravity for better balance

Rear padded suspension - Provides additional level of comfort on the wearers' neck

4-position harness points - Allows you to move the harness forward, backward, up or down - allowing for the most optimal position for ultimate comfort

Replaceable sweat band - Padded fabric and polyurethane foam for all day wear

Vented pressure pad - Keeps the straps in place providing an additional level of comfort

Easy to grasp knob - Adjusts the suspension from 6 1/2 to 8

Swinging hinge points - Allows you to find the most comfortable position on the back of your head

Complies with ANSI Z89.1-2014 Class C, E, G regulations

Meets CSA Z94.1-05 Canada Regulations
SKU ~ ML-HP46131
Pyramex® RIDGELINE™
Cap Style Safety Hardhats
with Ratchet Liners
Hi Viz Lime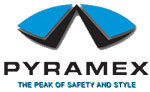 Embellishments for your hat